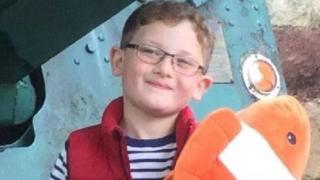 A woman used a cushion and scarf to strangle and smother her seven-year-old son on the day of a custody hearing with his father.
Lesley Speed wrote to her son Archie Sprigg to say she could no longer protect him from his father and she was going to "do the unthinkable for us".
Archie was found dead in his bunk bed at Speed's home in Wall-under-Heywood, Shropshire last September.
Speed denied murder but was convicted at Birmingham Crown Court on Monday.
The 44-year-old, who suffers from severe depression and anxiety, claimed she found her son hanging from his scarf in his bedroom.
Jurors were told that she had written letters to each of her three children, including Archie, prior to his death.
When asked by the prosecution if "unthinkable" meant killing herself and Archie, Ms Speed said: "Yes, going into the sea and drowning."
Although she went on to say she just meant "disappearing".
In another letter to Archie's father, the court heard she wrote: "I hope this pain lives with you until your dying breath.
"Archie will now be free from pain and heartache with his Nan and grandparents in heaven."
'They're my world'
Ms Speed, who was found in her home bleeding heavily from lacerations to her neck, arms and wrist, told the court she was not capable of doing what she had written about.
But her partner Darren Jones, who found Archie, said Speed had told him she smothered him.
Analysis of a cushion belonging to Archie suggested it was used to asphyxiate him.
As the forewoman of the jury delivered the unanimous verdict, Speed broke down and shouted: "No, no, you've got it wrong.
"My kids are my life, they're my world. Nothing would make me take their life."
Mr Justice Nicol said Speed would be sentenced on Tuesday.