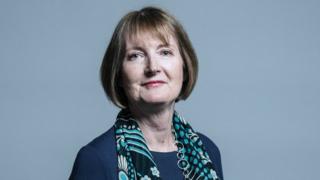 The next Labour leadership election should be fought between only female candidates, Harriet Harman has said.
The party's former deputy leader called on men to go further than sitting out of the contest and to actively back women for the top job.
There are no plans for an election but she says the initiative should be in place for whenever Jeremy Corbyn is replaced.
However, Ms Harman said the idea was "startling … would-be leaders".
'Bit of a thing'
The Conservative Party has had two female leaders – and prime ministers – with Margaret Thatcher and Theresa May, but Labour has never elected a woman as leader – although Ms Harman has been acting leader.
"It's becoming a bit of a thing," Ms Harman told The House magazine.
She said men could "jostle amongst themselves to be deputy", but it was important to choose a woman for the post.
"Next time I think we have to be quite clear about this and basically say: There are lots of fantastic men in the Labour Party who would be more than capable of being leader – there's no doubt about that – and there are also lots of women who are more than capable of being leader," she added.
"We're going to choose one of the women."
Ms Harman admitted she may not be making a lot of progress in gaining support for the plan, but she was "advancing the argument".
"I'm startling a lot of the would-be leaders," she said. "They think I'm joking and peel away with laughter and I'm, like, deadly serious."
But she hoped a "next generation of men" would be the "remarkable men who actually support women leaders".
She added: "You've had women saying there should be a woman leader, you've had men saying there should be a woman leader, but we haven't yet had the men who are potential leaders saying: 'This time it's a woman.' That's the next step."
No vacancy
Ms Harman has not said whether she would run herself, but did hint at standing for the post of Commons Speaker when John Bercow leaves the role.
She said: "People have been asking me whether I would be prepared to stand.
"But I think that that's something that I would have to consider when there's a vacancy, and there isn't one at the moment."
Ms Harman is the longest continuously serving female MP and has worked with seven different Labour leaders – twice stepping up to be acting leader, in 2010 and 2015.
She is a longstanding campaigner for equality for women at Westminster.
She told Sky News in 2017 that she should have run for the leadership herself in 2010, when Gordon Brown stood down, adding: "I should have stepped forward and it is a bit of a mystery to me why I didn't.
"But I think the world is full of men who aren't up to the job pushing themselves forward, and loads of women who are up to the job who don't, and for that moment I was probably one of them."